Hi Barry
I would just like to thank you and Tony and for the great job done on sorting out our under floor ventilation.
Your advice made most sense (of all the companies I got quotes from) and the focus on quality and especially house aesthetics was very refreshing,
Tony, who did the installation of the actual ventilation bricks did a great job! The quality of his work was excellent, he asked the right questions, made some good suggestions and even cleaned up nicely at the end.
I will wholeheartedly recommend anti-damp to anyone who has underfloor ventilation issues.
Kind regards Dimitri
---
Barry and the team were very helpful in giving specific advice for our situation. Not only did they do a fantastic job with the vents to keep the under house area dry but also recommended builders and spoke to them on our behalf to further solve our damp issues. Great service and they came and went and kept things neat and tidy. Highly recommend barry to give advice about damp issues you may have.

The builders HBuild Huw principal

---
Formed more than 25 years ago and even the newest employees have over 5 years experience in the industry.
We are one of the few companies who offer both physical and the chemical pressure injected damp proofing methods. We believe the chemical pressure injection method, which has been perfected over many years, is far superior to any other type of damp proofing solution. There are many advantages of this solution the most important one being no large-scale disturbance of the structural integrity of the building. The damp / water proofing fluid that we use is of the highest quality available, it is also odourless and safe to use.
Although we advise the use of chemical pressure injected damp proofing should the customer prefer information on or to use the more traditional physical damp course proofing, we can do that as well. Some companies still insist on using the physical damp course method which I believe is more often than not for profit reasons i.e. less materials and a higher cost per lineal metre means a higher profit for some. We prefer to give value.
Normally we do not offer any plastering or rendering repairs as part of the job, however as well as specialising in damp proofing I am also a licensed Plasterer and therefore qualified to give advice in this area. We are always happy to advise and make recommendation but as a minimum we advise the customer that a suitable salt retardant should be used in the plaster mix.
Another major trading area of Anti-Damp is under floor and wall ventilation systems. We believe that with proper ventilation many damp situations can be alleviated before they cause major problems. There are several methods of ventilating a building and we design the ventilation system to suit the building in question. In general however we find that the most efficient system is the wind powered turbo, this method is powered by wind as the name suggests. It is silent Running, trouble free, and will lasts for years. It forces the existing vents in the building to work harder and reduce musty smells in the under floor area. We have other systems as well which include brass wire ventilators and 12V fans.
As you can see we do a wide range of work which means that we are not restricted in our view of how to solve a problem. Our company motto is "don't fix something that isn't broken" and we believe we get more business this way and the customer is always happy.
Thank-you for visiting our web-site and I hope to hear from you so that we can be of further service.
Barry Mack Anti-Damp Australia Pty Ltd Sydney NSW Tel: 02 9817 7600 Mobile: 0419 842 686 Fax: 02 9817 7611 This email address is being protected from spambots. You need JavaScript enabled to view it.This email address is being protected from spambots. You need JavaScript enabled to view it.
The Dry Home DH24 dehumidifier was reviewed by Choice Magazine and was their number one recommended dehumidifier and received by far the highest water removal score of all seven units tested
Also the Dry Home dehumifier range has been featured on Channel 9's "Our House" Renovation Program.
We offer fast, reliable, satisfaction guaranteed service and a wide range of models. Our customers return time and time again, and bring their friends. When you purchase from us, we make sure that you are completely satisfied with your selection.
Try before you buy satisfaction guarantee on dehumidifiers.
We will visit you in your own home and your can either purchase the unit outright or hire/trial for $220 per month. If after trying the product you decide to purchase a brand new unit the cost of the trial will be deducted from the total purchase price.
Product guarantee - all of our products are covered by a two year guarantee on parts and labour.
Features
Stylish and quiet.
Strong, quality non-corroding parts and materials
Ballbearing fan motor (important for durability)
Fully adjustable dryness control - you decide the level required
Power efficient, economical, low running costs
Turns off automatically when water container full
CFC Free refrigerant. Will operate in the coldest conditions (5~35°c)
For more information about our dehumidifiers and other products to help keep your home dry, please follow the link to our sister site http://www.dryhome.com.au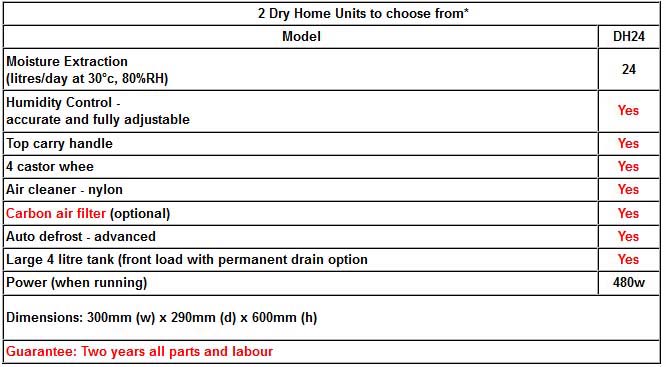 *Choice report dated the 15th of June 2012
**Choice magazine is 100% independent and "the leading consumer advocacy group in Australia" and "empowers consumers to get the most out of all their purchasing decisions by providing a mix of advocacy and advice".